Stefano Rossignoli 19 gennaio 2013
Materiale scientifico con immagini gentilmente fornitomi dal prof. Andrea Tintori.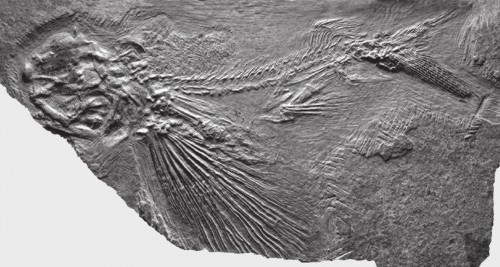 Thoracopterus wushaensis sp. n., esemplare CMPKU-P-3071, paratipo, "femmina".
Uno degli esemplari preparati e studiati durante questo lavoro sulla nuova specie di Thoracopterus…
Glossario:
GMPKU-P-: Geological Museum of the Peking University, Paleontological collection.
Olotipo: esemplare di riferimento per la descrizione della specie.
Paratipo: uno dei paratipi utilizzati nella descrizione della specie, ovvero esemplari di confronto, della stessa specie dell'olotipo, con ulteriori caratteristiche, utili a descrivere meglio la specie, ad esempio nella sua variabilità, dimorfismo,ecc.
---
Di Andrea Tintori, Zuo-Yu Sun, Cristina Lombardo, Da-Yong Jiang, Cheng Ji, Ryosuke Motani: A NEW "FLYING" FISH FROM THE UPPER LADINIAN (MIDDLE TRIASSIC) OF WUSHA (GUIZHOU PROVINCE, SOUTHERN CHINA)
Trad: UN NUOVO PESCE "VOLANTE" DAL LADINICO SUPERIORE (TRIASSICO MEDIO) DI WUSHA (PROVINCIA DEL GUIZHOU, CINA MERIDIONALE)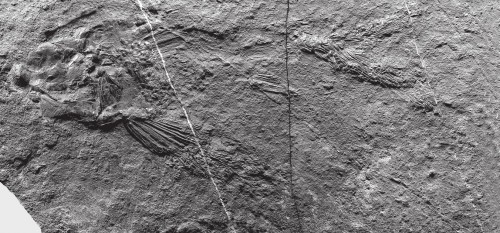 Esemplare GMPKU-P-3061, Thoracopterus wushaensis sp. n., l'olotipo.
Mi sembra ieri quando, con i colleghi nonché amici Cristina, Marco, Cecilia e i miei prof. di Paleontologia dei Vertebrati A.Tintori e S.Renesto, giungemmo allo stupendo cottage sul Lago di Piano dove risiede il piccolo e grazioso museo di storia naturale…
Avevamo appena trascorso una giornata di scavo su una strada comunale del paese di Corrido, ospiti presso la bellissima "Casa della riserva" del Lago di Piano presso la quale, il prof A.Tintori tenne una serata divulgativa sui fossili del Triassico delle Prealpi.
Ricordo belle giornate spensierate ancora con la freschezza dei vent'anni, ottime cene, una bella atmosfera e fantastici giri notturni sul lago dopo il lavoro con l'amico Marco, ospitando Cristina e Cecilia sulla 'nostra' barca a remi ripulita e 'presa in prestito' dalla riva e sempre puntualmente restituita…
Eravamo da quelle parti perché stavamo effettuando un saggio di scavo cercando fossili in un piccolo affioramento roccioso di Calcare di Zorzino, un calcare del NORICO (formatosi quindi intorno ai 220 milioni di anni fa – vedi scala dei tempi geologici), bacinale ben stratificato e spesso laminare, facile da aprire con piccoli martelli e lame d'acciaio.
Fu lo scavo meno redditizio a cui presenziai. In tre giorni di lavoro a tempo pieno trovammo solo tre piccoli pesci fossili e qualche "dentiera" di piccoli squali del passato Pseudodalatias.
Uno dei tre pesci apparteneva al genere Thoracopterus che allora era considerato tipico del Carnico-Norico (Triassico Superiore) e fu anche uno dei più bei fossili che trovai in vita mia:
un piccolo pesce lungo meno di 10cm considerato un 'pesce volante', ovvero un pesce a tutti gli effetti, ma in grado di muoversi per diversi metri fuori dall'acqua allargando le pinne pettorali e talvolta le pelviche come fossero una sorta di ali…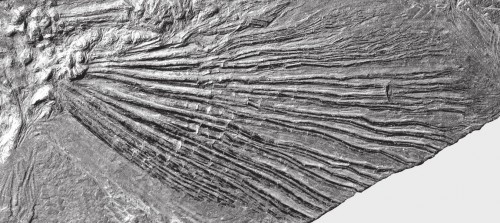 Ce ne sono anche oggi di pesci volanti (es: Cypselurus oppure leggi l'articolo di M.Castiello su Paleostories) ma c'è una cosa che desta curiosità: i pesci volanti di oggi sono molto distanti dall'albero genealogico di quelli attuali (lo si capisce per come sono diversamente disposte le ossa dello scheletro e soprattutto del cranio) ma esternamente hanno la stessa forma, rappresentando uno splendido esempio di Convergenza Adattativa.
Forse il mio prof non pensava ancora a quel che avrebbe trovato qualche anno dopo in Cina non avendo cominciato ancora la sua collaborazione con la Peking University.
Solo ultimamente infatti, in Cina, si stanno cercando e trovando per scopi scientifici un sacco di fossili e pure molto interessanti, dai piccoli pesci ai grandi rettili marini fino agli splendidi dinosauri piumati di cui ci ha parlato anche Daniele Tona in questa serie di articoli.
Come in altre storie comuni a molti siti Italiani/Europei, i primi siti di scavo sono stati trovati per scavi commerciali e per utilizzarne le lastre di roccia, poi anche per vendere i fossili. Le università e musei cinesi però ora si interessano ai fossili e Leggi tutto "Pesci delle Prealpi italiane "Made in Cina"."